A Tribute to Dr. Gary Lavin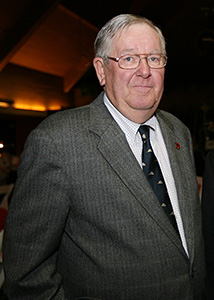 The board of directors and staff of Grayson-Jockey Club Research Foundation honor the accomplishments and memory of Dr. A. Gary Lavin, ex officio Vice-Chairman. His love of horses motivated his tireless work to improve the health and safety of all equine athletes. Chairman, Dell Hancock said it best in her interview with the Thoroughbred Daily News - "He always put the horse first. His work for the horse at Grayson was invaluable and it's one of things that made Grayson what it is. He and Larry Bramlage are the ones who came up with an early look at all these projects and it's the backbone of Grayson, and each would say it wouldn't have happened without the other. I couldn't say enough good things about Doc Lavin. He's one of the few people who didn't have an enemy. Just a super, super person."
Press release:
GRAYSON TO ESTABLISH "A. GARY LAVIN CHAIR POSITION"